Support and Online Help
Sign In Help
PsychData Help
PsychData Help offers immediate, searchable online help.
Video Tutorials
Video Tutorials show detailed solutions to frequently asked questions.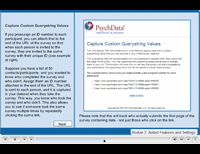 Library: Articles and Videos
Library: Articles and Videos offer detailed help with IRB's, question logic, save and return surveys, and more.
Contact Support
Have questions? Contact Support
Library: Articles and Videos
All Video Tutorials

Download to SPSS

Save and Return

IRB Application Tips
Identifying Info
Question Logic

Using Video in Surveys
Using Images as Answers
Random Stimulus
FAQ

Security Statement
Privacy Policy
Terms of Agreement
Compare Us
Sample Questions
Using Copyrighted Materials
Researcher Tips
Comparision
Link to PsychData
Create Account
Testimonials
"I am absolutely amazed with the quality of your service. Thank you so much for such a prompt response... I am so excited!"
"PsychData has been fantastic... customer service is very professional, with great attention to the needs of individual customers."
read more...